Tactile. Agile. Mobile.
The RTG RangeRunner makes moving your gear as easy as pulling the trigger.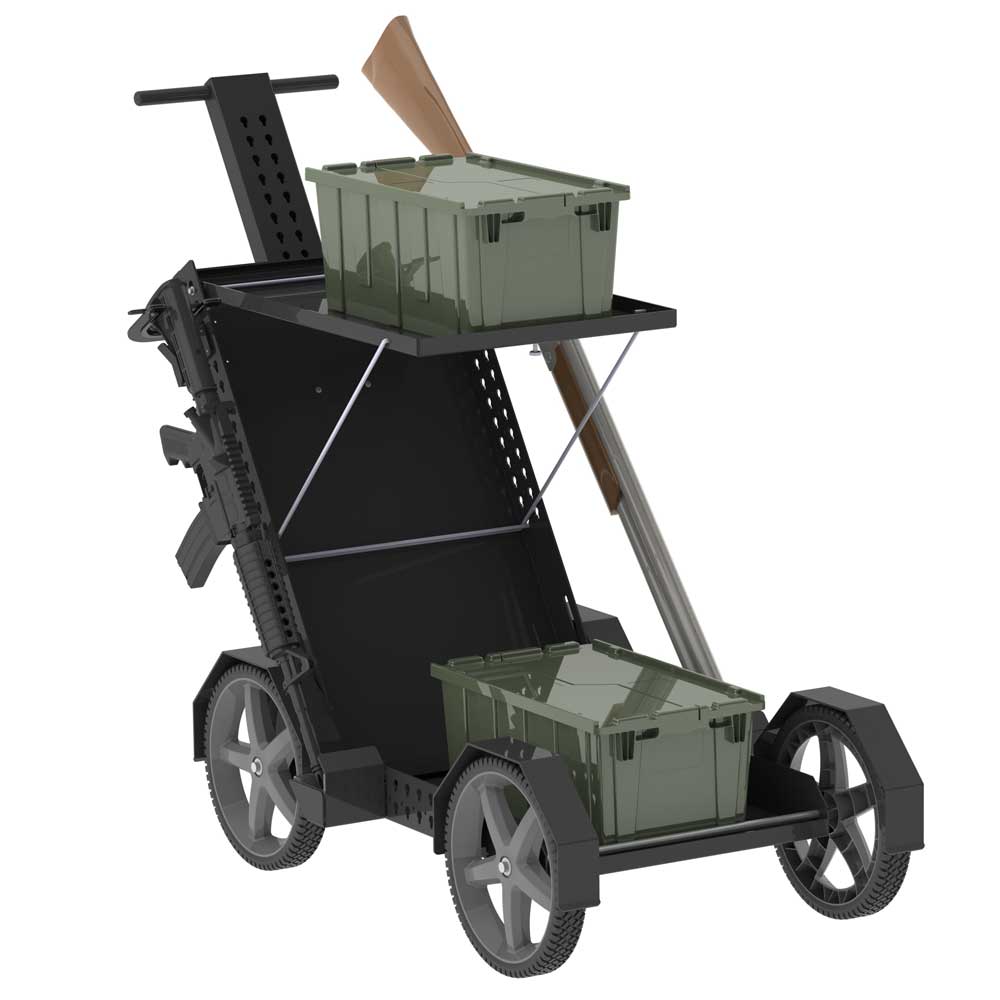 Do it all – anywhere.
Go anywhere, shoot any target, and carry it all. The SC-007 is 18″ wide and ready for the range or the wilderness.
We sent the RangeRunner to a few people you may know. Check out what they had to say when they first met our creation.
We have designed our gun carts to suit your unique needs & equipment.
Are you tired of wasting all your energy lugging heavy firearms & ammunition around? Do you miss competitions or feel like it's time to "hang up your spurs" because it's just too difficult to get around with so much stuff to carry? Are you seeing damage to your expensive firearms because they're banging around poorly made or improvised holders?
• Increase your success by saving your energy for the target.
• Keep shooting longer with less effort.
• Protect your hard earned investments.
Need more convincing? You should know the RangeRunner is...
Organized:
Going to the range involves a lot of gear, and most of it is heavy. There's the gun, or in many cases multiple guns, the ammo, and all the other miscellaneous items like ear protection and magazines. Thats a lot to carry and keep organized! Brought to you by Range Tactical Gear, the RangeRunner can solve all these problems. The RangeRunner is built around the standard ammo canister and range bag you already have.
Simple: Setup takes less than 10 seconds. An easy lift and slide motion locks the cart right into place.
Lightweight:
The RangeRunner's aluminum construction keeps it at only 18 lbs.
Heavy Duty: Strong wheels, Steel axles, and a thick aluminum body mean the RangeRunner can withstand over 5x its weight.
All Terrain: Twelve and eight inch treaded wheels give the cart a sporty look and the capability to roll through any terrain.
Protective: Our rubber coated gun brackets will keep your guns safe from debris and scratches.
Stores Easy:
The RangeRunner includes a bonus Wall Mount that keeps it out of the way when not in use.
Customizable: The gun brackets can be placed to accommodate any length gun. The handle solidly locks into three different positions. The cart can be divided by a moveable dividing rod to best fit your gear. Additional attachments coming soon! Message us your ideas! Examples: Cupholder, umbrella holder, ammo tray, etc.
Adaptable: There is also a 5 Gun Cart option available. This is great for team events and competition shooting.
Perfect for 3-Gun • Sporting Clays • Trap • Skeet
Summary: Collapsible Lightweight Adjustable handle Included wall mount for out of the way storage Built of sturdy, non-corrosive aluminum
2 upper and 2 lower gun brackets coated in soft, durable rubber
Key slots for gun bracket adjustability
Moveable dividing rod
Treaded wheels for off road travel
Additional Option
5 gun addition – ideal for a team cart
Easily transport and safely secure everything you need for the range.
The RTG RangeRunner doing work:
The RTG Customer Guarantee
We Ship Quick
Get your gear fast.
Exceptional Quality
We aim to please with every detail.
Satisfaction Guaranteed
If you're not pleased with our product or service, we're not done.