Your Best Day at the Range Starts Here.
Protect and transport all of your range gear easily and securely.
Cowboy Classic Cart 

|  SALE PRICE $295!
This $395 cart is now on sale for $295 for a limited time only!
This cart is built to include 12″ pneumatic or run-flat wheels, and standard 3 gun holder brackets.
Simple Setup takes less than 30 seconds. An easy-lift locks the cart right into place.
Lightweight  24 lbs. of aluminum construction.
Heavy Duty Can carry up to 80 lbs.
All Terrain Twelve-inch pneumatic tread wheels give the cart a sporty look and the capability to roll through any terrain.
Protective Rubber-coated gun brackets protect your investment from debris and scratches.
RangeRunner
The original RangeRunner comes standard with a 12″ wide base and is pre-loaded with 2 gun brackets and 12″ pneumatic wheels.
$395
RangeRunner XL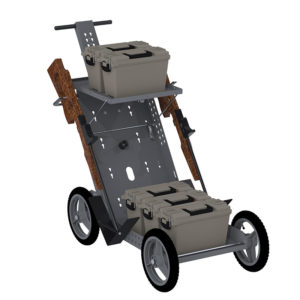 The XL is a great upgrade package with a 16″ wide base. It also comes pre-loaded with 2 gun brackets, a utility shelf, and 12″ pneumatic wheels.
$495
RangeRunner Pro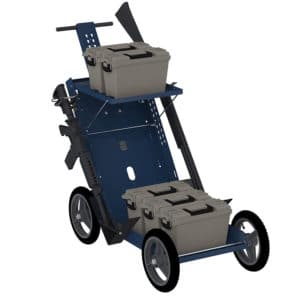 Go anywhere. Do it all. The Pro comes standard with an 18″ base, 2 gun brackets, 12″ pneumatic wheels, utility shelf, and chassis latches.
$650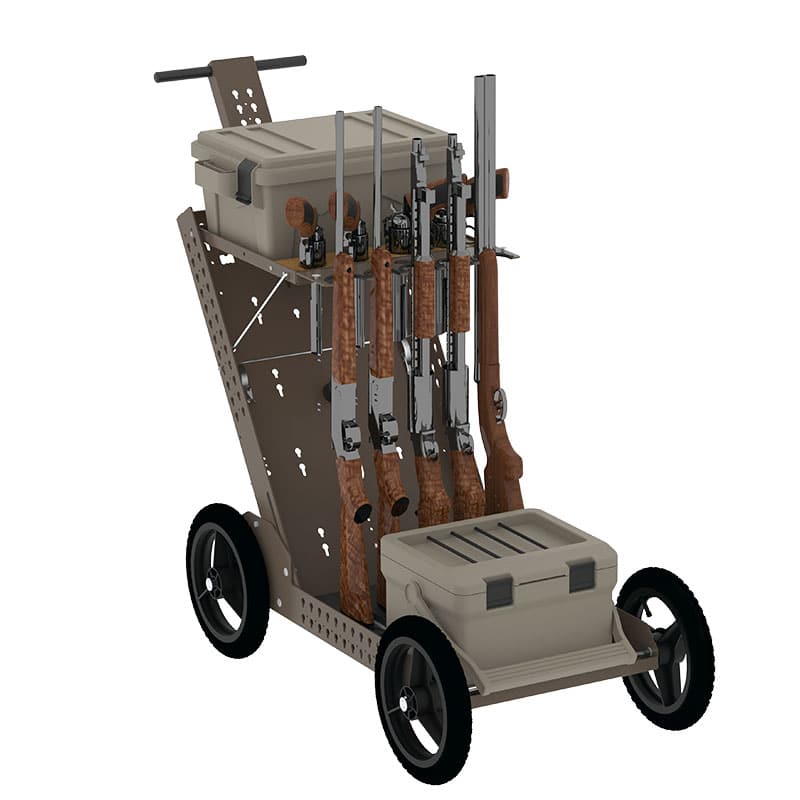 Cowboy Cart Gun Slinger 

| Now $650
The cart has a 18″ wide base and comes pre-loaded with 5 place gun bracket, a utility shelf, wheel brake, and 12″ pneumatic or run flat wheels.
Specs:
Bottom Tray: 17.5″x21″
Vertical Storage: 17″x26″
Note: Cart vertical storage is 2/3 of spec below if there is a shelf on the cart.
Cart Dimensions when collapsed: 43″x24″x14″
Customize Your Cart!
Design a RangeRunner just for you and your gear. You select the base size, wheels, gun brackets and accessories to create a cart all your own.
You deserve more than a modified stroller.
We have the solution.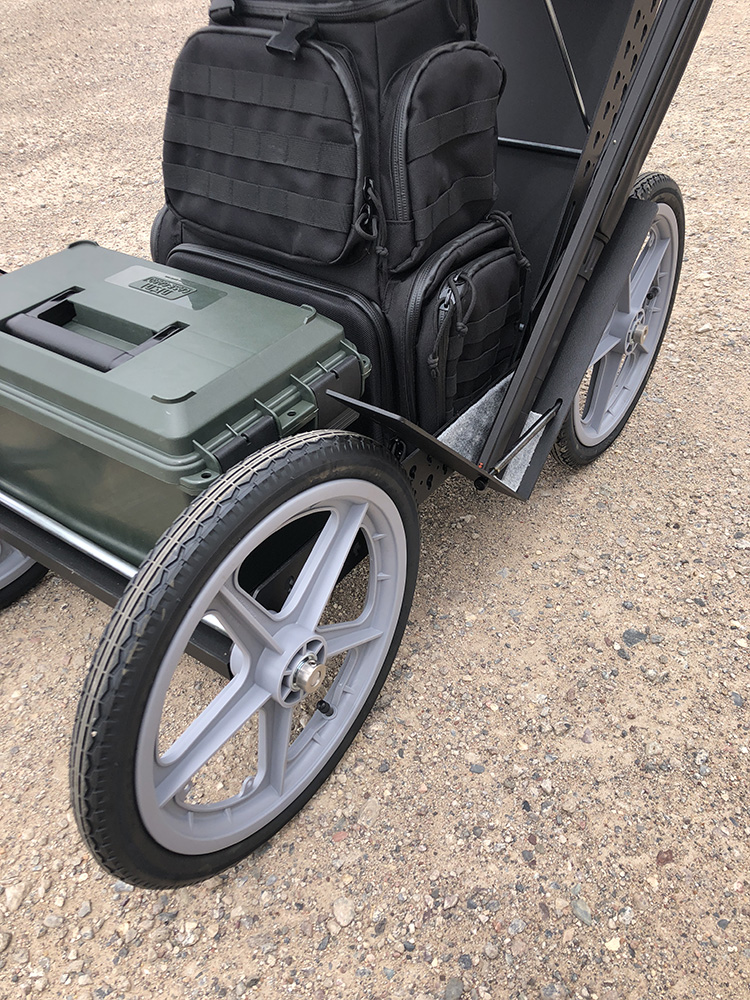 Custom Wheels
Terrain varies from day to day. We have wheels for any range.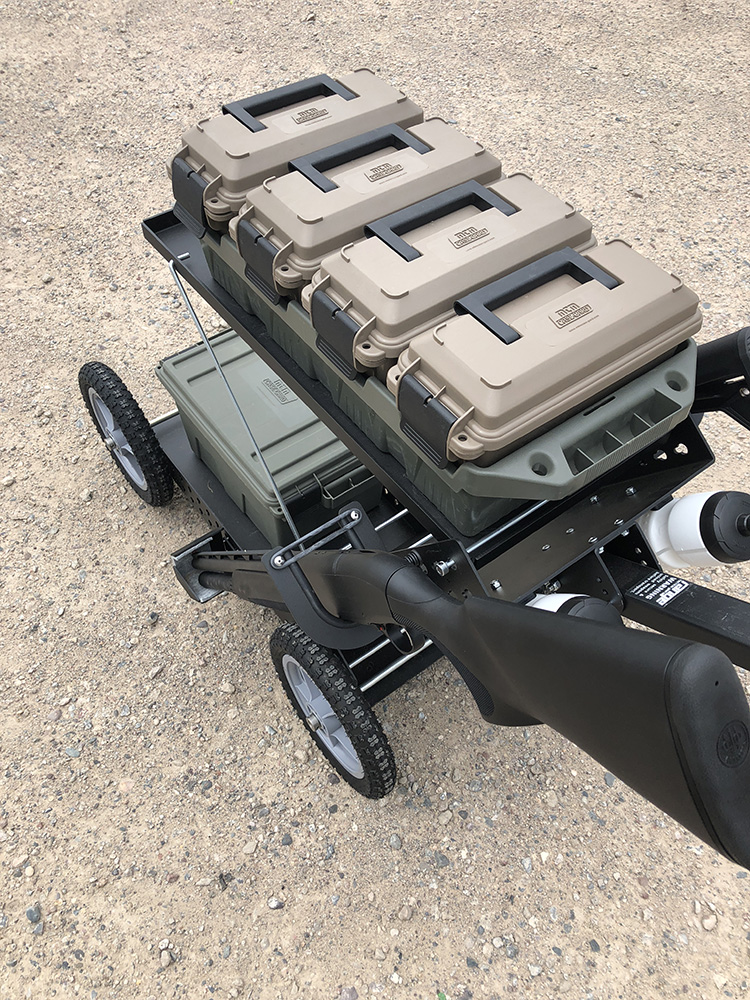 Utility Shelf
Keep your gear and ammo easily in reach.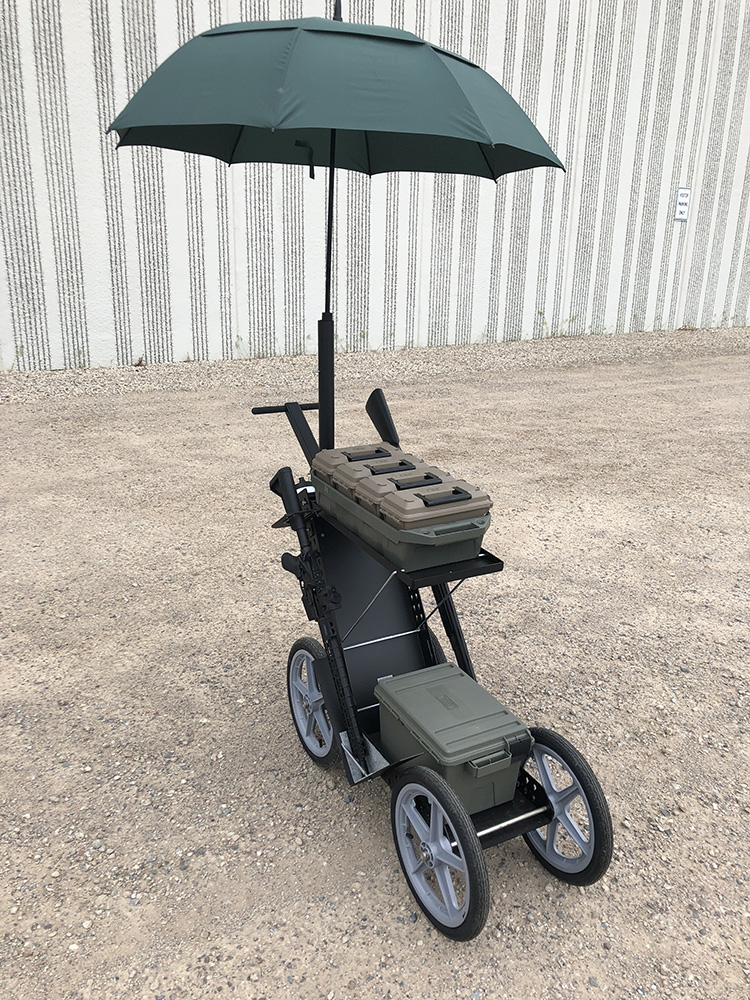 Umbrella Mount
Stay cool while your packing heat.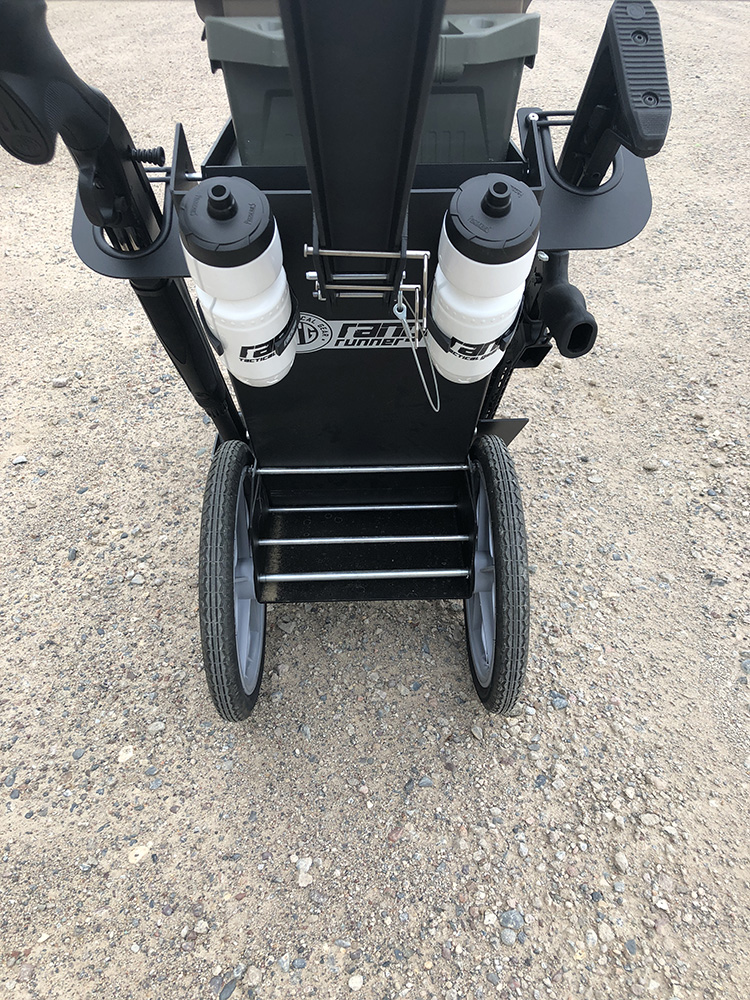 Water Bottle Pack
Brackets for barrels, brass and yes…even your beverages.
Easily transport and safely secure everything you need for the range.
"Fantastic product. Well built and functional. I took it to the range for the first time over the week end and could not be more impressed. I believe you will sell many more units as this product sells itself." L. Bothmann
"The cart performed very well It handled well in soft sand, soft dirt, and very rocky ground with all my gear and partners gear along with about 3,000 rounds of ammo and water."
R. Benzio
"I will be praising you guys to everyone at the range for your response and awesome customer experience."
C. Strickland